Is Your ADHD Teenager Out of Control? How to Help Your ADHD Teenager Get Back on Track
Throughout the United States, millions of children are diagnosed with ADHD. This common behavioral disorder affects 13% of the teenage population based on data from the CDC, and boys are twice as likely to have this condition than girls. Many children, over half, who have this disorder also have behavior or conduct problems, and others have anxiety or depression.
As a parent, helping your child navigate these challenges is not always easy. You may ask yourself how you can tell when your child's ADHD has gotten out of control and needs more intensive help. Taking a closer look at your child's behavior and having realistic conversations will help you know when things need additional attention.
Behaviors That Indicate ADHD Teens Are Out of Control
If you have a teenager with ADHD, you need to know what behaviors to watch for that indicate the problem has become serious and additional help is needed. Some signs to watch for include the following:
Self-destructive behavior – Self-destructive behavior can be overt, such as self-harming, or covert, such as a child who regularly gets in trouble at school to the point it is affecting them socially or academically. Either way, this is a warning sign.
Overwhelm – If your teen is shutting down regularly or seems to have trouble prioritizing their tasks, more so than is normal for them, it could indicate their ADHD is out of control.
Emotional dysregulation – If emotions cannot be moderated and the teen is having strong emotional reactions or the inability to calm down after an emotional event, then it is time to get additional help.
Academic struggles – ADHD in teens often leads to poor academic performance, even if the teen has the right abilities to thrive in school. 
Withdrawal and avoidance – Sometimes, teens with ADHD will also suffer from anxiety or depression, and when life gets overwhelming, they withdraw. When they have difficult stimuli, these kids practice avoidance. Both are signs that ADHD is not being properly treated or managed.
Remember that these behaviors may indicate that ADHD is getting out of control even if the teen isn't officially diagnosed. ADHD in teens can be hard to spot, especially in girls who are good at masking it, and that can allow many teens to go undiagnosed. If you suspect your teen has ADHD due to behaviors like these, consider reaching out to a counselor for help.
Facing a child's undiagnosed, untreated, or improperly treated ADHD feels overwhelming. You may feel powerless to help your child excel and grow into a healthy adult. However, there are options out there to help both you and your child if you are willing to think past what you have been doing and embrace a new choice.
The risk of dropping out of high school is higher for teens with ADHD than their peers. The consequences of this decision are lower income and difficulty finding a job affecting their ability to thrive as adults.
The Problem of Co-Occurring Conditions
What makes ADHD so difficult to manage is the fact that this disorder almost always comes with co-occurring disorders. These co-existing conditions, such as anxiety and depression, put your child at higher risk for serious behavior disorders or self-harming behaviors. Treating just your teen's ADHD does not always address the other underlying conditions, leaving your teen vulnerable.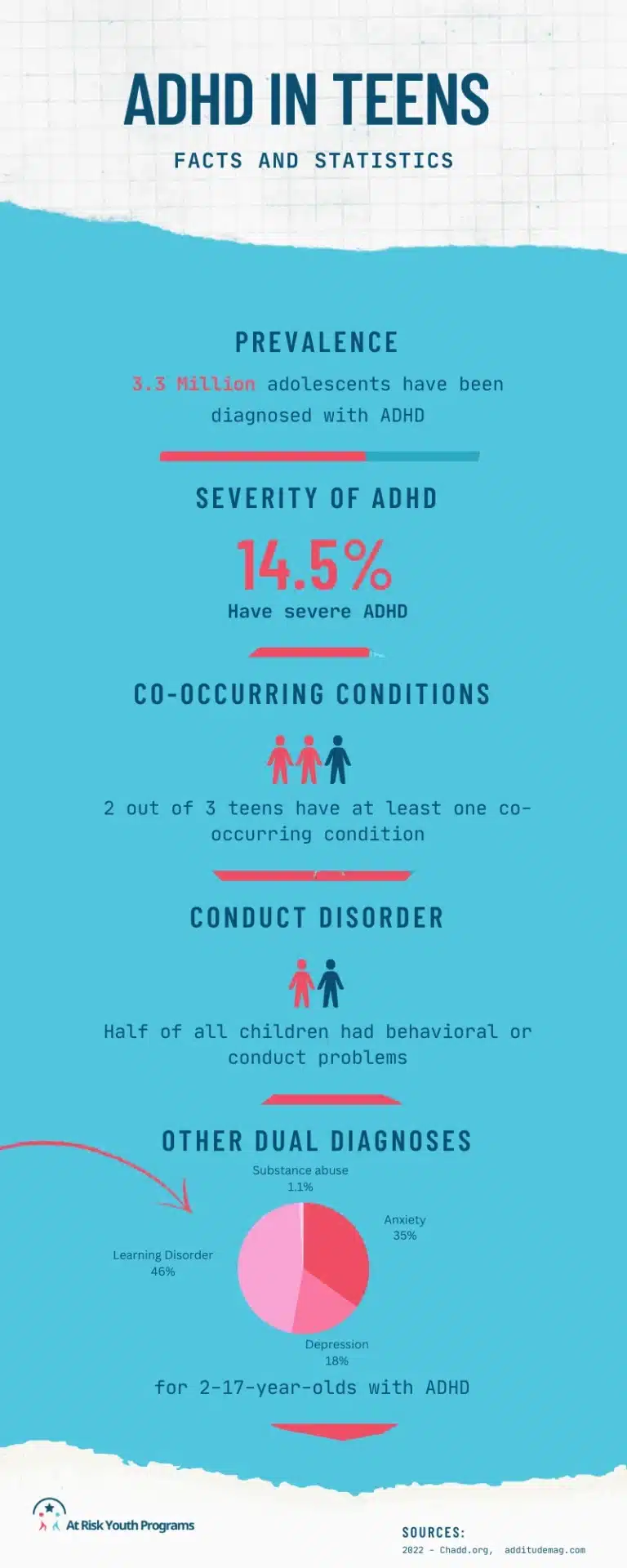 Consider Residential Treatment to Let Your Teen Thrive
If your child is exhibiting concerning behaviors and the interventions you are using are not working, then it may be time to take more intensive measures. Boarding schools for ADHD and residential treatment facilities that specialize in helping teens with ADHD give your child the best chance at thriving.
These residential treatment facilities have trained staff that works with a child and their mental or behavioral health concerns. They also have therapists and mental healthcare providers who can properly diagnose and treat not only ADHD but also co-occurring disorders.
For a teen with ADH to excel in school, parents must work closely with their school to develop a personalized plan with specific learning goals and aligns with their child's needs.
While your child is in an ADHD residential treatment program, they will benefit from the following:
Learning emotional regulation – A vital issue for ADHD kids is the challenge of managing their emotions. This is a common strategy taught in residential treatment.
Increasing academic performance – One of the biggest risks for ADHD kids is the risk of falling behind academically. ADHD can make it hard to stay on track in school, and leaving school for therapy or medical appointments lets them fall even further behind. In residential treatment, they get the chance to catch up while receiving necessary treatment and support.
Reducing high-risk behaviors – Teens with ADHD often lack the mental brakes necessary to stop dangerous or high-risk behaviors before they escalate. In treatment, they learn how to stop these behaviors when needed. This gives them the best chance to excel in the future as adults.
Embracing a brighter future – Some of the best minds in the world have ADHD, but in the teen years, the disorder can create many challenges. With the right treatment in a residential facility, you will give your child the best chance at overcoming these challenges and finding success.
Get the Right Help Now for a Brighter Future
When your child's ADHD and co-existing conditions are causing them to struggle, it will affect their ability to thrive over the long term. Knowing how to best help your child is not always easy, and parents can feel frustrated as they look for the right treatment.
ADHD treatment centers, especially an ADHD residential treatment program, are the ideal solution to protect your child's future.
If you are looking into ADHD boarding schools, you have many options. There are many residential centers offering treatment for ADHD in teens, and you need to get help to find the right one.
Reach out to a family advisor for an evaluation and insurance verification today. Let an advisor help you take the next step to protect your teen's future.
Other ADHD Articles You May be Interested in