Successful Programs for At-risk Youth
and Characteristics of the best Youth At-Risk Programs
The best youth at risk programs that can work for your child will depend on their needs. Despite our efforts, many children are falling into the at-risk category every day. According to Dr. Richard Marshall of the University of South Florida Polytechnic, this is because approximately 20% of the students lack the essential skills, abilities, motivation or background to fit into our traditional school systems. When these children seek to join a community whether at home or at school, they experience severe difficulties which often will push them towards becoming at-risk.
The teenagers' homes and the communities they seek to join are big factors that can cause them to become at-risk. For example, a bad neighborhood, bad role models within the family, accessible and unregulated forms of media such as the internet, unhealthy living conditions, negative peer pressure from neighboring friends are contributing factors to becoming an at-risk.
For an at-risk youth, finding the proper program to help is key to success. So what programs will be successful for an at-risk youth?
What program will be successful for my child?  
What at-risk children needs most is a positive environment that is conducive for them to change. As a parent concerned over your child's welfare, if you are unsure whether you can commit to a level of attention and care, or your home foster a positive environment needed by these kids, the best solution would be to enroll him or her to a residential program that is conducive for change.
Right now, there are dozens of successful programs for at-risk youth available both in the public and private sector. When looking for the best program, parents will have to understand what each specific program entails, what its strengths are and its weaknesses.
Overview of Successful Programs for At-risk Youth
To help parents decide, here are brief overviews of the most common programs that can help struggling youth.
Residential Treatment Center
Community based programs are among the most popular solutions for providing help to at-risk youth, and among these are the residential treatment centers or live-in health care facilities where patients stay for a period of time in order to be treated.
Residential treatment centers in the teen intervention setting are "unlocked", which means residents are generally allowed to move about the facility with relative freedom except outside of the premises as opposed to locked residential treatment facilities wherein patients' freedom is severely restricted, usually confined to a single hall or room. Residential treatment centers are generally more clinically focused, providing treatment based on the medical history of the patient. These institutions also primarily provide behavior therapy and treatment for patients suffering from serious mental, emotional or behavioral issues.
Residential treatment centers are usually considered as the "last ditch" option to helping a child.
The most successful Residential Treatment Centers (RTC) offer Integrated Therapeutic Curriculum (ITC). Like academics, sports, outdoor activities, extended family participation, and practical life skills strategies. Turning Winds, a Montana-based , offers an adventure trip to practice their new skills and cope with adversity. For instance, the students recently participated in a community service project on a trip to Alaska. They also went fishing and rafting.
Learn more about residential treatment programs for at-risk youth here
Therapeutic Boarding School
Some community based programs are adopted from the therapeutic community model such that they feature a long term, participative, group based treatment approach. Primary examples of these are therapeutic boarding schools.
Therapeutic boarding schools, also known as emotional growth schools, are boarding schools that have a significant therapeutic component and offers education and treatment in a highly structured and supervised environment. In contrast to residential treatment centers, the focus of therapeutic boarding schools is toward mental, emotional, and academic recovery. Its students usually are children and teenagers with mild to severe mental, emotional and behavioral problems, substance abuse problems, or learning difficulties due to other issues, such as ADHD.
To offer a level of education on par to better than that of other schools, therapeutic boarding schools generally follow the content of courses and regulations of the nation, state or region. Some schools are fully accredited and are licensed to award a high school diploma.
In the U.S., Britain and Australia, therapeutic boarding schools are widely credited for their role in providing intervention and treatment to troubled teenagers and at-risk youth. In the U.S., researchers have noted that participants of therapeutic boarding schools have much lower recidivism rates due to the long term residential treatment and the benefit of the educational program that ensures teens are easily reinserted into their society.
Military Boarding School for Troubled Teens
There are two types of military school programs in the United States: those whose purpose is to prepare cadets for service in the armed forces, and those that are designed to provide tough love intervention to troubled teenagers.
Military schools that are intended to prepare cadets for national service generally do not accept teenagers with behavioral, mental or physical problems.
Military boarding schools for troubled teens and at-risk youth are offshoots of the highly popular intervention solution for troubled boys in the 1980s. Among its main criticism was the length of the program, usually 2 to 3 months, which is deemed highly inadequate. By offering subsequently longer program duration plus an educational component, military boarding schools now offer a significantly better outlook in regards to providing intervention and treatment.
Still, there are many criticisms of programs that use a military based approach. According to many experts, the confrontational model used by these programs is not the most appropriate model for kids suffering from various issues such as emotional or mental problems. Plus, it is a model most susceptible to abuse. Research has shown that military based intervention also does not reduce recidivism rates of its participants. While the above standard physical fitness and a highly disciplined, highly structured environment can provide huge benefits to teens, rehabilitation programs that are not designed to scare, deter or control troubled youth are still better alternatives.
We do not recommend military schools for trouble teens, instead we encourage you to consider alternatives like residential treatment centers or therapeutic boarding schools. 
Christian Boarding School
Christian boarding schools are private residential schools managed by religious organizations. Since most of them are privately funded or are financed by charging tuition, Christian boarding schools are generally exempt from local or national educational regulations, although they generally follow regulations in order to provide a national level quality of education.
Christian boarding schools tend to follow a respective mission; among these is helping troubled teenagers and at-risk youth. Some tailored to providing intervention to specific category of struggling children, such as providing treatment and care to abused kids or kids struggling from drugs.
One main drawback of Christian schools is inequality, as Christian schools tend to follow their respective denomination. They are allowed to refuse some students based on qualifications, such as race or religion. Another disadvantage is the possibility of institutional or systemic bias, especially over topics on religion, which prohibits schools from accepting new ideas.
Example: Heartlight Christian Boarding School, Hallsville, Texas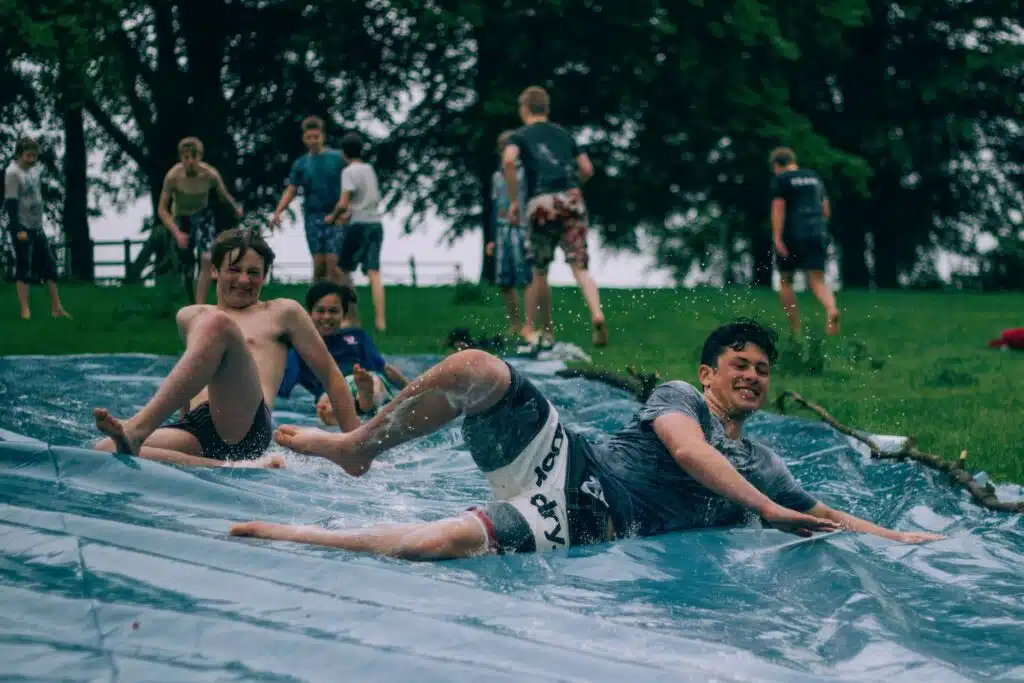 These are just some successful programs for at-risk youth. It is important to understand that each youth is unique. Keep in mind that the best youth at risk programs may vary.
It is also crucial to understand what to look for in an at-risk youth program. What characteristics should a youth program have to foster positive development for your child? What do successful programs for at-risk youth should have?
5 Characteristics of Best Youth At Risk Programs
There are so many different kinds of at risk youth programs and they have different ways of reaching out and inspiring change in struggling teenagers. There are programs that are highly successful as far as getting the desired results among the young people that they mentor, and there are some that are a little less successful than others. What sets the good programs apart? What makes it the best youth at risk program for your child? There are actually a lot of factors that contribute to the success of best youth at risk programs, but here are 5 common characteristics that you can look for:
Able to give teens individualized attention – Part of where mainstream education fails struggling teens is the fact that classrooms can be relatively overcrowded that students are not seen as individuals anymore. It's a lot easier to fade into the background and go unnoticed in a class of 40 students than it is in a group of 5 or 10.


Can support for efficacy and improvement of teens – Ideally, the best youth at risk programs start off by letting teens go through a psychological evaluation. This is in order to really get to know their needs and how they can be helped. Programs that offer therapy and counseling base the kind of help they will give struggling teens on this initial psychological profile, and adjusts it along the way as they get to know the teens better. The best youth at risk programs have staff who are not just properly trained but also take the time to really get to know teens and their individual challenges and are able to communicate with them and help them effectively based on this individualized assessment and relationship.


Has a wide variety of activities – Good youth at risk programs have activities that are designed to teach values and build character, not just pointless activities that don't serve any real purpose. Good youth at risk programs would also have activities that involve community service in order to teach teens what their role is in building their community. The kind of activities at risk youth programs implement have a direct effect on the recovery of at risk youth. It gives them avenues and opportunities to achieve something and in the long run, build their self-worth. It also encourages them to see beyond themselves and consider the world around them. It encourages them to stop struggling and become more introspective, focus more on building their future than struggling against present circumstances.


Provides a safe environment – It's important for parents to know what precautions programs take to ensure the safety of the teens in their care. For example, an at risk youth camp that deals with teens who are struggling with substance addiction should have a concrete plan in place to ensure that teens don't get their hands on alcohol, drugs, and other substances. Wilderness camps for at risk teens should also have a clear policy on how parents would be able to communicate with their teens while they are out in the wilderness. What kinds of precautions are taken during activities while out in the wilderness, what actions are taken during storms, and what kind of medical facilities are available in the camp. For parents, the safety of their teens must be of great importance.


Aftercare – For struggling teens, the road to recovery can be a long one. At times there is no clear cut course nor a clear cut timetable for the recovery. Sometimes young people can need help along the road. It's a lot like learning to ride a bike again; it can be wobbly at first, until you get your bearings and eventually achieve stability. Continuing to give help to struggling teens even after completing the program is an essential characteristic of the best youth at risk programs.
The success of the youth program selected for an at-risk youth will depend on these characteristics. Achieving positive impact for children is a top priority and the best youth at risk programs should check off this list for a start.
Here at At Risk Youth Programs, we connect you with a trained professional to help you through the process. Contact us here to know your options for the best at risk youth program for your adolescent.