At Risk Youth Statistics 2020: Have They Changed for Better or Worse Over the Past Decade?
Today's youth continues to be exposed to many factors that increase their risk for addiction, academic failure and poor mental and physical health. Teens most at risk for severe behavioral problems are typically those who lack a stable support system at home. In addition, teens living in dysfunctional families (drug abusers, serial criminals, gang members) or in households at or below the poverty level are also at a greater risk for mental, physical and behavioral issues.
Comparing Past At Risk Youth Statistics with 2011 and 2020 At-risk Youth Statistics
Drug and Alcohol Use
In 2011, a national study published by Columbia University's National Center on Addiction and Substance Abuse found that adolescent substance abuse was America's leading health issue at that time. The study also reported that:
Nine out of 10 high school students met the criteria for addiction, whether it was an alcohol, drug or cigarette addiction

Nearly 75 percent of U.S. high school students said they had used alcohol, drugs or smoked cigarettes

Over 34 million children and teenagers lived with substance abuser

Number of students estimated to have met the medical criteria for a substance abuse disorder in 2011: 1.6 million
High School Students Who Had Their First Drink Of Alcohol Before Age 13 Years
The 2019 YRBS statistics regarding youth drug and alcohol use found:
Seven percent of all U.S. high school students reported abusing prescription opioids on a regular basis

Nearly 14 percent say they have misused prescription opioids at least once time (authors of the report state that simply "trying" drugs can lead to addiction and overdose)

Of the 14 percent claiming to have misused opioids, many also report using pot, alcohol and routinely binge drinking on the weekends
The YRBS survey also asked high students about alcohol use over the past 30 days:
Five percent said they got behind the wheel after drinking alcohol

Twenty-nine percent said they drank alcohol

Fourteen percent said they engaged in binge-drinking

Seventeen percent said they allowed someone who had been drinking to drive a car with them as a passenger
The National Institutes of Health provide the following statistics on teens and pot smoking:
In 2017, four percent of eighth graders reported using marijuana; in 2020, ten percent of eighth graders say they have smoked pot

In 2018, over five percent of eighth graders used pot; in 2020, that percentage rose to 10.1 percent

In 2017, 11.9 percent of 12th graders said they smoked pot; in 2020, almost 30 percent of 12th graders report using pot
In summary, the biggest change in youth drug abuse is the increasing use of marijuana in middle and high school students. Although prescription opioids and heroin use in teenagers remains relatively low, the fact that any drug type abused by teens has been found to be a significant risk factor in the development of a substance abuse disorder. Research shows that adolescents using drugs or alcohol before age 15 are a whopping seven times more likely to have a substance addiction before they turn 21.
Sexual Behavior and At-risk Youths: Statistics from a Decade Ago
According to the Guttmacher Institute:
One out of three teens admitted to being "sexually experienced"  by age 15

Out of every 1000 teen girls between the ages of 15 and 19, about 70 became pregnant

Although pregnancy rates in the U.S. were on the decline a decade ago, the U.S. continued to have higher pregnancy rates compared to Sweden, Canada and other highly developed countries

Nineteen percent of teen girls said they nor their partner used contraceptives during intercourse

Nearly 17 percent of teens in the U.S. between the ages of 13 and 24 were diagnosed with HIV in 2008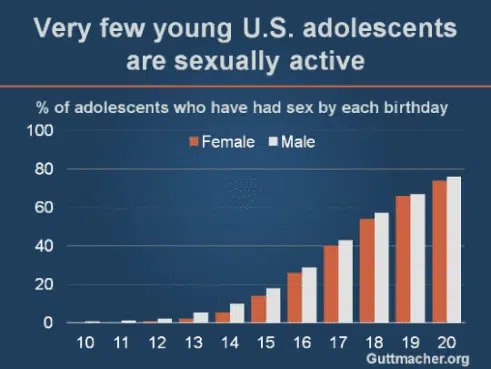 Results of a 2019 CDC statistical survey reported the following about teens and sexual activity:
Thirty-eight percent of teens said they were sexually active, a decline of eight percent reported in 2009

Nine percent of high school students reported having multiple sex partner. That is a decline of five percent from 2009

Condom use percentages did not improve over the past decade. In 2009, 61 percent of teen boys said they used condoms. Unfortunately, that percentage fell to 54 percent in 2019. The CDC reiterates that neglecting to use condoms not only increases the chance for pregnancy but also increases the risk of transmitting and being infected with STDs and HIV/AIDS
The Truth About At-Risk Youth in 2020
Are you aware of the level of risk our youth is facing today? Reading these at risk youth statistics, all we could think of was, this is absolute madness! Why is no one in the media discussing what's happening to our youth? 
We must raise awareness among parents, teachers, religious leaders, and our communities. Everyone should be aware of what's happening with our kids. We think of "at-risk" teens as someone else's child, but we cannot afford to continue to think that way. The number of teens that are dying by suicide in this country is now of epidemic proportions. 20% of adolescents live with a mental health condition and many go undiagnosed.   
2020 Statistics: High School Students Who Ever Had Sexual Intercourse
In summary, the most recent report by the CDC states that the number of sexually active teens has been declining since 1990. However, 40 percent of 15 to 19-year-olds reported being sexually active in 2017, which the CDC says is the most data available about sexually active teens. Although 20 percent of teen girls say they are using an intrauterine device to prevent pregnancy, condoms remain the most used contraceptive among both male and female adolescents.
Consequences of Risk Taking Behaviors
Why do so many teenagers in the U.S. fall in the category of at-risk youth? Here's why. In any given 24 hours, these teen statistics report:
2,795

girls will get pregnant

15,006

teens will try drugs for the first time in their lives. Unfortunately, many will become addicted and get involved in crime to fund their addiction

3,500

teens will run away from home because they are being physically or sexually abused or live in an otherwise dysfunctional household 
The At-Risk Youth Programs team created this infographic based on a recent publication by the CDC on the results of a National Youth Risk Behavior Survey and a recent article by verywellmind.com.   We feel strongly that everyone needs to know what is happening to our teens.  The facts are that amidst everything else that is happening today, our youth are at greater risk in 2020 than ever before and parents need to intervene to prevent their teenagers from becoming just another statistic. 
The Truth About At Risk Youth in 2020 (Infographic)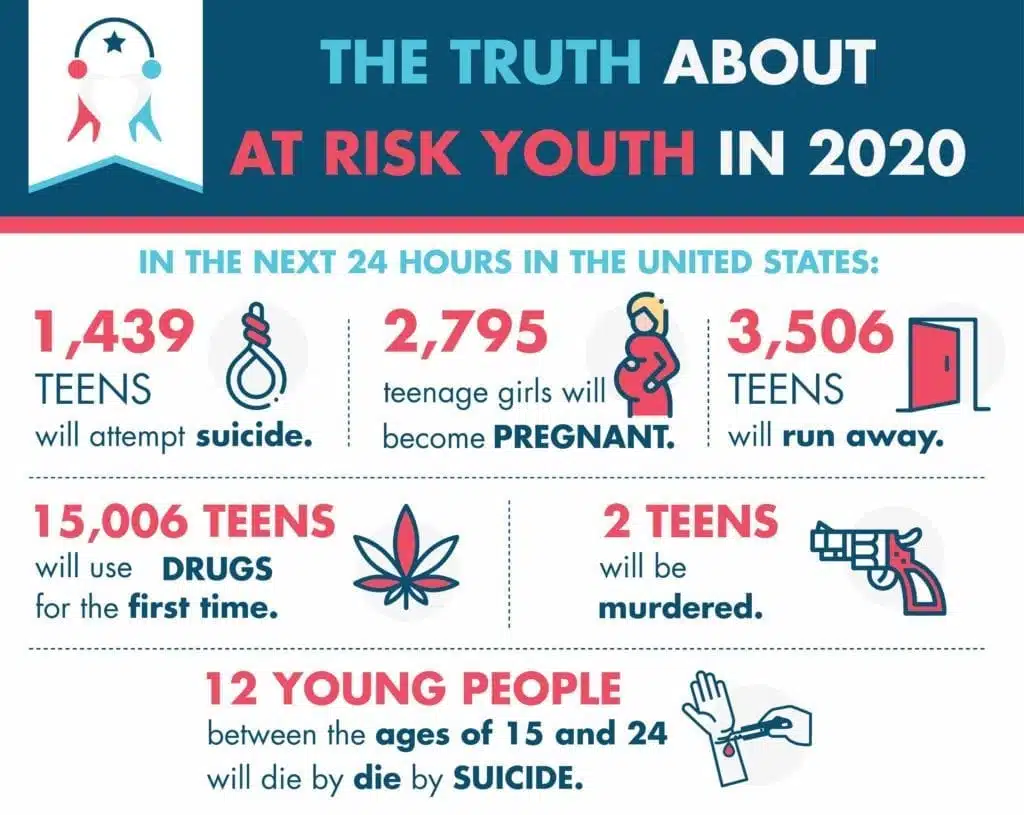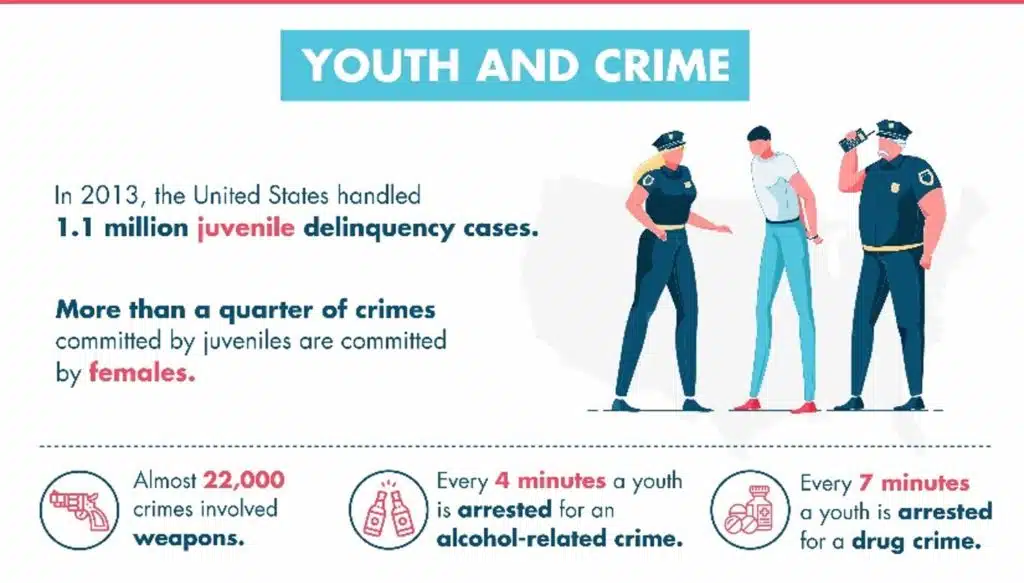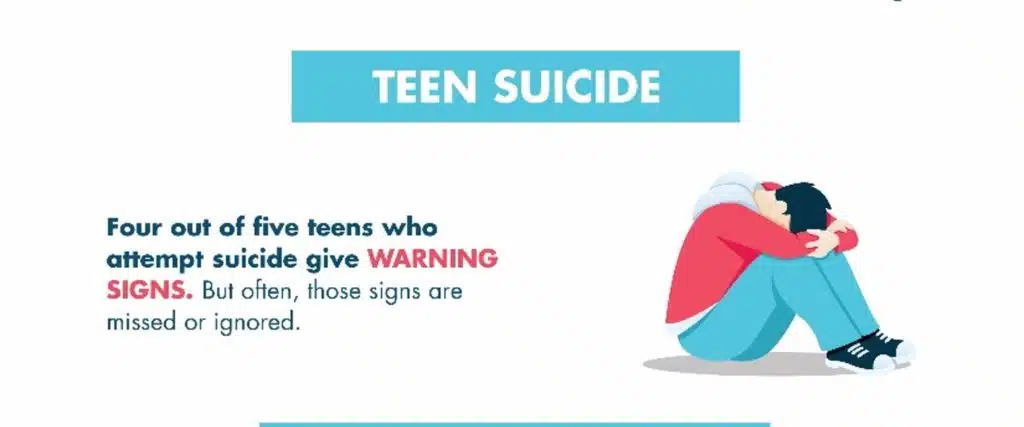 A wide variety of situations and conditions will directly place students at risk for behavioral problems that often lead to making bad and often dangerous decisions. Some of these include:
Lack of a consistent discipline system at home

Poor school attendance/truancy

Having a disability or chronic physical or mental illness that parents do not adequately address with professional treatment

Lack of sufficient community support services aimed at helping at-risk youth

Living in high-crime, low-income areas

Lack of access to community or vocational colleges (no financial help available, higher education institutions too far away)

Lack of parental involvement/disengaged parents

Moving frequently due to being evicted, job loss, etc

 
Mental Illness and At Risk Youth
At-risk youths also share a number of mental health problems, especially depression and behavioral disorders such as conduct and defiant oppositional disorder. According to the World Health Organization, depression disorder is the fourth leading cause disability and illness in teens between 15 and 19 years old. Depression is the fifteenth leading cause of disability and illness in teens between 10 and 14 years old. Anxiety disorders (social, panic, phobia) are the ninth leading cause of disability and at-risk youth behavior in teens between 15 and 19 years old.
Teens Don't "Grow" Out of Mental Illness
Mental health misinformation often prevents at risk teens from receiving the therapy and medication they need to help them cope with a psychological issue. One myth involves the falsehood that children can "grow out" of their mental health problems.  In fact, leaving a child's anxiety, depression, personality disorder or other psychological issue untreated usually makes it more difficult to address in adulthood. Research shows that children who need counseling but do not receive it often abuse drugs or alcohol, experience relationship and work troubles and have encounters with the law as older teens and adults.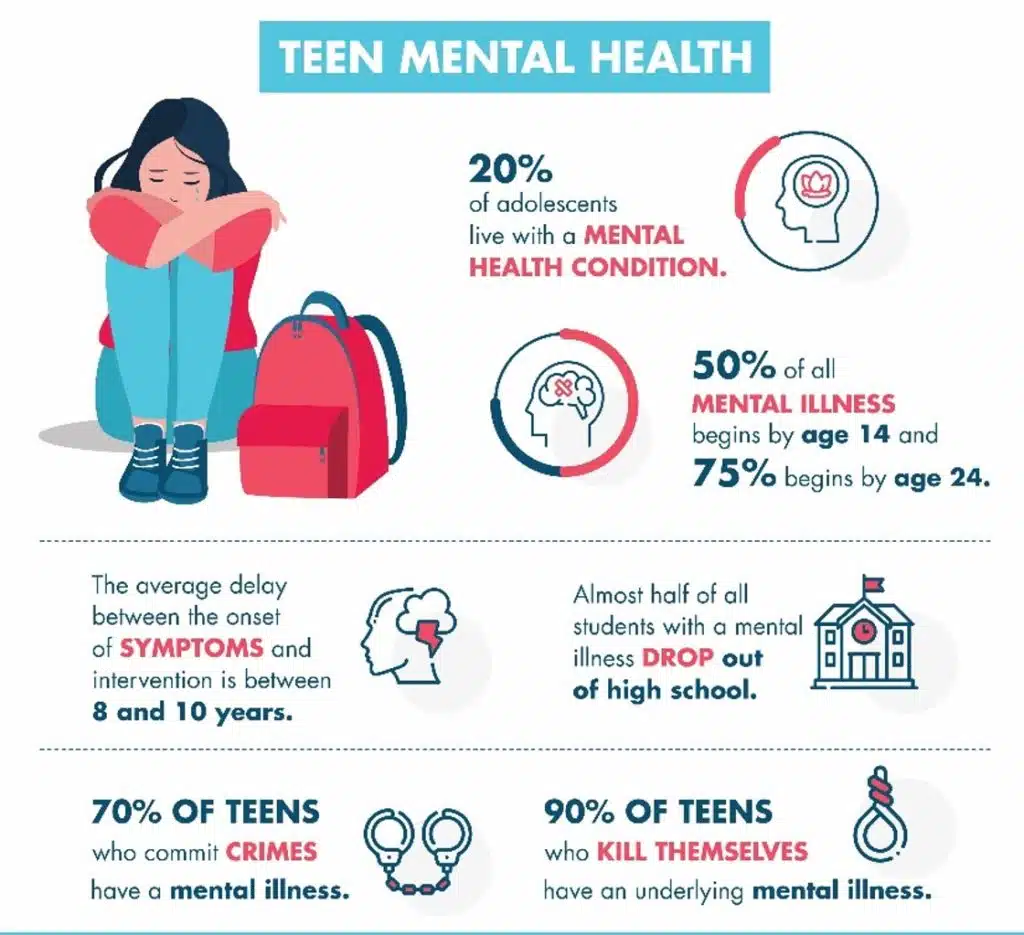 If you are concerned your teenager is going down the wrong path and may be at risk, click the button below to download the Free At-risk Youth Program Guide.
Children with Mental Health Problems are not More Likely to be Violent
The most common mental health issues diagnosed in children under 14 is clinical depression and generalized anxiety. Both these disorders tend to make children withdraw, passive and overly introspective. Factors that actually increase the risk of kids committing a violent act include being physically or sexually abused, having access to guns in the home and consistently witnessing violence in the home.
Teens with Mental Illness Can be Successfully Treated
Children diagnosed with non-psychotic disorders generally improve over time if they receive regular psychotherapy and/or counseling. Antidepressant medications may be prescribed to preteens and teenagers to help stabilize moods and reduce anxiety/depression. However, children suffering schizophrenia, bipolar disorder or other psychotic mental disorder will require ongoing professional therapy into adulthood.
Preteens Can Suffer Major Depressive Disorder
Children as young as five years old can experience serious depression requiring therapy and medication. In contrast to older teen and adult depression symptoms involving withdrawing friends and family, sleep difficulties and suicidal ideation, signs of depression in children include irrational outbursts, becoming irritable and aggravated over small things, academic problems and changes in appetite.
Help for Parents of At-risk Youth is Available Today
In addition to providing assistance with determining if teen risky behavior would benefit from residential treatment programs, we also offer a wealth of informative articles about recognizing signs of depression, bipolar disorder and ADHD and behavioral disorders in teenagers.  If your child is at-risk, please contact us to get help today. 
Speak to a Family Advocate Now
This article was updated by the At-Risk Youth Programs Editorial Team on 02/21/2021